Events at Create Health
Delivered by specialists in women's health, our information sessions for women, and our professional GP education events are held throughout the year at locations across Melbourne.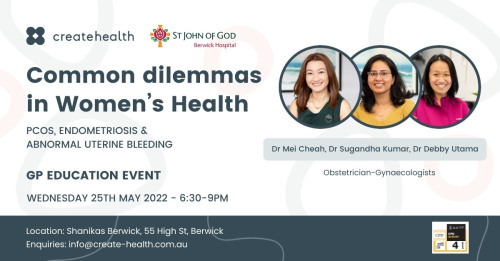 Wed 25-May-2022
Shanikas Berwick, 55 High St, Berwick
Calling all GPs – St John of God Berwick Hospital have a RACGP education event coming up, featuring our specialists! Our Women's Health specialists Dr Mei Cheah, Dr Sugandha Kumar, Dr Haider Najjar and Dr Debby Utama will be forming a panel to provide their insights and expertise.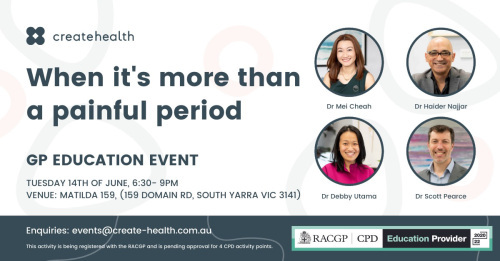 Tue 14-June-2022
Matilda 159, 159 Domain Rd South Yarra
We have a free RACGP education event coming up in June, presented by our Women's Health specialists Dr Mei Cheah, Dr Haider Najjar and Dr Debby Utama who will be providing their insights and expertise. This activity is being registered with the RACGP and is pending approval for 4 CPD activity points