Specialists in Women's Healthcare
What is Create Health
Create Health is a specialist women's health clinic in Melbourne delivering exceptional care across obstetrics, gynaecology and fertility.
Anchored in women's health, we're here to deliver superior, specialist healthcare for women of all ages - regardless of life stage.
More About Us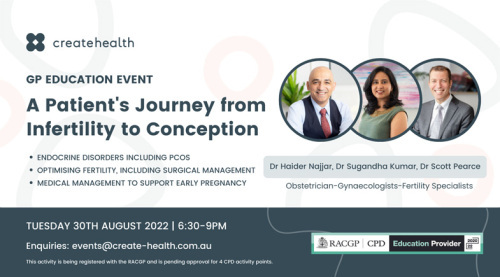 Calling all GPs – Our Women's Health specialists Dr Haider Najjar, Dr Sugandha Kumar and Dr Scott Pearce will be providing their insights and expertise.
This is a RACGP accredited event pending approval for 4 CPD points earned.
30 August @ 6:30pm via Panama Dining Room & Bar, Fitzroy VIC 3065
Create Health Blog
Congratulations on your pregnancy! You are feeling amazing and great and then suddenly food aversions, nausea and tiredness have set in, even weight loss. For many women first trimester can be tricky and exhausting to navigate.
This blog includes important information about COVID-19, commonly referred to as coronavirus. We know there is stress and anxiety in our community about this disease, and people have many questions regarding the health implications.
There are many benefits to breastfeeding your baby but it is not always a journey that comes easily for many women. There are a number of things you can do to prepare and ready yourself for a successful breastfeeding experience.
Contact Us
If you have an enquiry, or would like to make an appointment, please contact us and we'll happily assist you.
Location

359 Blackburn Rd
Mount Waverley VIC 3149

226 Clarendon Street
East Melbourne VIC 3002

Opening Hours

Mon-Fri 9:00am - 5:00pm